Stringed instrument making process Blu-ray Disc
Features of this Blu-ray disc

◎For ordinary TV programs, we keep one cut within 30 seconds or so in order not to get tired of viewers. Also, we will make intentional "excitement" by program organization, narration etc. However, with this video disc, we will show you "truly continuous making craft" with a dull barely dare. I wanted to show you the "real craft" that is not drawn to anything.
"The next scene of the current working scene ... ... the scene of the work which is almost the same as before", this is the essence of craft and what I wanted to show.
◎It is impossible to leave video shooting of the concept as above to an external video production company. It is very delicate and it is necessary to shoot clearly over a long period of time.
So, we introduced high-definition video cameras in our studio since 2005 and shoot them all by ourselves. By shooting videos by oneself like this, we were able to take pictures of parts that we can not show normally, and leave them as images.
◎It will be a story of professional making craft, but it reflects very valuable "making craft" without hiding. I will not accept any questions about the contents, but please take a closer look at those who are interested and please refer.
◎The charm of a stringed instrument is in its "sound" coming out of the instrument. However, I am convinced that you will feel more "sound" by knowing "inner side of instrument" and "back side of production" which can not be seen usually. Even those who are not interested in the making craft themselves will be proud of the contents that you are surely satisfied with.
Please also take a look at understanding your own instruments.
demo video
It is a scene excerpt picture of about 10 minutes from the contents of 205 minutes BD. In addition, the product BD contains a simple explanation by the subtitle function (selectable display / non-display). However, English subtitles are due to machine translation.

Thinking of seeing this BD, comments from everyone.


---
Stringed instrument making process Blu-ray Disc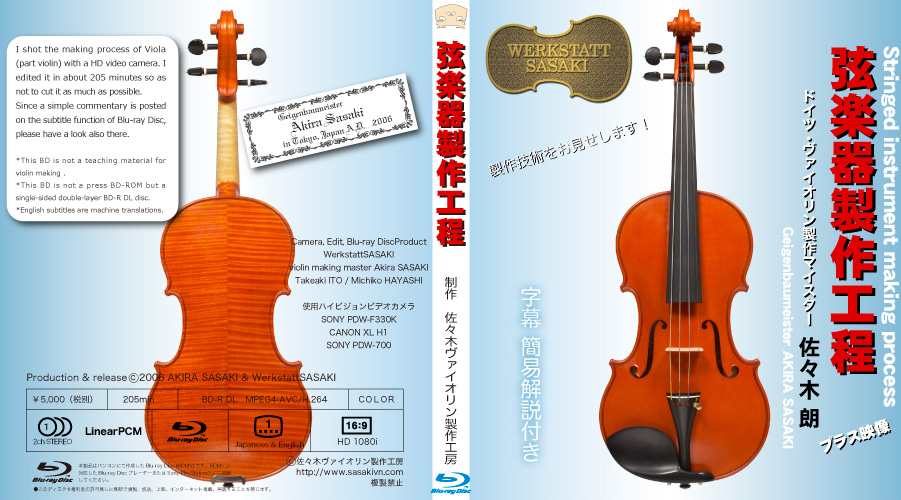 Specifications and cautions
*Recorded video time 205 minutes. PCM sound, Japanese and English subtitles (English subtitles are machine translations).
*Region Free
*This BD is not a press BD-ROM but a single-sided double-layer BD-R DL disc.
*This BD is not a teaching material for violin making (You can not answer any questions about violin making technic in the video).
*There is no explanation by narration or words. Only working sounds, environmental sounds are recorded.
*To display the subtitle function of "simple commentary", please operate it with the BD player 's remote control.
*Playback of this BD only supports BD player equipment (including BD recorder, PlayStation etc.). We do not guarantee compatibility with playback on personal computers.
*We will ship only BD to overseas. DVD is not on sale.
*Stringed instrument making process Blu-ray Disc: price 5,800yen (ship via normal post mail), 6,700yen (ship via EMS).
* Payment by "PayPal" or "credit card".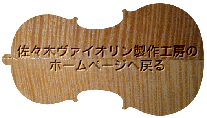 Tweet